Ample Scope for Visitors in Manas National Park
Updated on - 25/Feb/2022 Manas National Park has a plethora of beautiful and vivid atmospheres with wildlife gestures in abundance. The park is not only a good one in Key Biodiversity Area but it is also part of the key Tran boundary Manas Conservation Area. The park is home to many unique species, apart from tigers and elephants. In contrast, the Rhino population is mostly increasing in just one park, Kaziranga National Park. Rhinos are taken into consideration and the growing number of rhinos is giving positive vibes.
The future of greater one-horned rhinos
Now 20 female rhinos have been shifted to the Manas National Park and the most amazing thing is that females have given birth since they arrived at new places. This growing population is showing the effort for rhino protection. For balancing biodiversity the Rhinos are the most essential and play a vital role in improving the ecosystem. Rhinos are wonderful in structure and their safety has become the priority of the forest department.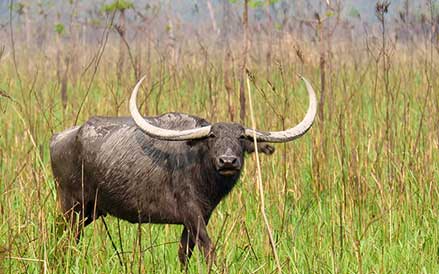 The future of greater one-horned rhinos
Rejuvenation needs the right time with the right place. This exciting park is the perfect place to soothe the wildlife in you. The jungle safari enjoyment and fun will make you stumble upon some of the beautiful wild creatures. If you are lucky enough, spotting a tiger won't be tough for you and no dull moment will dominate your soul. You should not get the feeling of apprehension once you spot a tiger just be there as it is. Being in the elephant and jeep safari will be fruitful and it draws many environmentalists who are willing to taste nature and rich wildlife.
The wildlife in abundance got to be seen by you without any delay through elephant and jeep safari. The jungle visit would make your life better and more therapeutic.
Activities
Have a jeep or elephant safari or both rides safari to the core and the buffer zone and spot elephants, Golden Langurs, Slow Loris, among others. Spotting Giant Hornbills, Khalij Pheasants, and more.