Manas and Kaziranga Wildlife Tour
The power-packed wildlife combination of Kaziranga and Manas wildlife tour package will take you through Kaziranga National Park and Manas National Park in Assam. Kaziranga national park is famed for being surrounded by one-horned rhinos. Besides this, you can also witness eastern swamp deer, wild boars, water buffaloes, hog deer, and Royal Bengal tigers. While there are rare species living in Manas National Park, such as hispid hares, pygmy hogs, golden langurs, and more. Additionally, there are Asian golden cats, gibbons, panthers (black), sloth bears, sambar deer, otters, and chitals along with them both generous places are having National Heritage animals i.e elephants.
The itinerary for Kaziranga and Manas National Parks includes guided safaris for 4 days and 3 nights. Guwahati is the center from where tourists will arrive and depart. Please note that the itinerary can be modified as per your needs and preferences.
Day 1: Arrive at Guwahati – Transfer to Wildlife Resort Kaziranga
Once you arrive at Kaziranga and Manas Welcome to Kaziranga and Manas Tour! Our representative will pick you from Guwahati railway station or airport and take you to the lodge, if you have taken this service. Afterward, you will be taken on a road trip to Kaziranga National Park. Guwahati is 230 kilometers away from the park, which takes five hours to reach by road. As soon as you reach Kaziranga, you will check into your booked jungle lodge. Enjoy rest of the day within lodges. In addition to resting in the lodge, you can explore the area around it. Overnight stay at such a good place Kaziranga.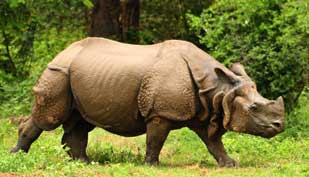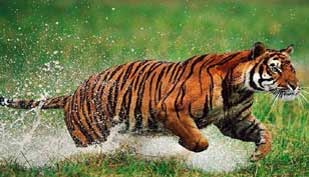 Day 2: Morning & Evening Safari
Following breakfast, you will be taken on a Jeep safari in the assigned zones of the park (Central/Western Range). You can easily spot rhinoceros, water buffalo, tiger, and more if your luck favor. After all the wildlife activities, you will be taken to the lodge for lunch and some relaxing moments after the safari. Few birds also can be seen like Pallas' fish eagles and spot-billed pelicans and more. Spotting is endless here like elephants, swamp deer, and water buffalo, many birds in this area. After a successful safari, you will be heading back to the lodge for dinner and an overnight stay.
Day 3: Road Trip from Kaziranga to Manas
Check out from Kaziranga lodge then have 7 hours road trip to Manas distanced about 289 km away. Check in to Manas lodge then have your fun moment inside the lodges itself and you can take your way ahead for the bird-watching sensation also for which the park is famous. After a fruitful day, have your dinner and night's stay at the lodge.

Day 4: Elephant & Jeep safari then Check out
Early morning wake up for Elephant safari then after breakfast checks out & indulge in Jeep Safari inside at Manas National Park within the ranges. Have your lunch then drive to Guwahati railway or airport for your as safe as beautiful onward destination.