Place to See Around Manas National Park
Manas National Park is a true wonder of scenes and echoes, both synthetic and natural. From the awe-inspiring display of water, luminosity, wild animals, birds both migratory and resident to the rivers and lakes this park is all about sci-fi structural design, world class gardens, fashionable art, conspicuous fresh hotels, and of course a put on the market joyride. The park knows to steal the hearts of individuals who visit this place for a retreat. It is an ideal place for those who like a phenomenal place and want to splurge some quality time with their family, friends, kids and partner. Also, the best time to visit the park is between October to April.
Manas National Park is located in the west region of Guwahati and is spread over an area of 2837 sq km.The park is ultimate and unique residents for many wild animals and species of birds, deer, golden cat, wild buffaloes, one-horned rhino, fishing cat, leopards, civet cat, wild dog, Indian fox, Tigers,, Elephants, Gaur and black beer and the park is a safe place for more than 20 highly endangered species.

Let me introduce you some of the cool places to see around the manas park:-
Tiger and Elephant Reserve
The park embraces the peculiarity of being both a Tiger and an Elephant Reserve. Therefore, tiger and elephant sightings are available and must be visited. Be one with nature and enjoy most of it by being here fully.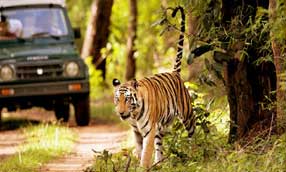 Palace of King of Bhutan
Manas National Park is a sprawling wildlife habitat that continues into the Kingdom of Bhutan. The Manas River that streams the border between two countries India and Bhutan. There is also the Summer Palace of the King of Bhutan which is overwhelmingly beautiful and a must visit. Hiring a boat will be more than a convenient option to access the other side but before that you need to take permission from Bhutan officials. The ancient beauty and the natural landscape are not a rare combination but truly amazingly pristine.
Mathanguri
The place is wonderful to be at once you are in Manas. It boasts all exotic and finest lodges and gives full advantage to view wildlife from close proximity. Safaris to the interiors of jungles are arranged by guest house authorities too.
Manas River
Manas River passes through Assam before flowing into Brahmaputra. Unwinding here will be rejuvenating and the flow of luminous water of the river has lent the countryside beauty that is not only beautiful but unmatched. Surrounded by pastures and sprinkled with trees, a candid setting for honeymooners. Soaking so close to nature and watching the sunset is a bewildering moment.