Explore the Tribal Communities In and Around Manas National Park
Updated [11-Sep-23] Manas National Park is located in the Indian state of Assam and is known for its rich biodiversity and unique cultural heritage. The national park is a UNESCO World Heritage Site and is home to several endangered species of flora, fauna and avifauna. Manas National Park is also the habitation space for several indigenous tribal communities, each with its own distinct culture and traditions.
Some of the prominent tribal communities in and around Manas National Park include: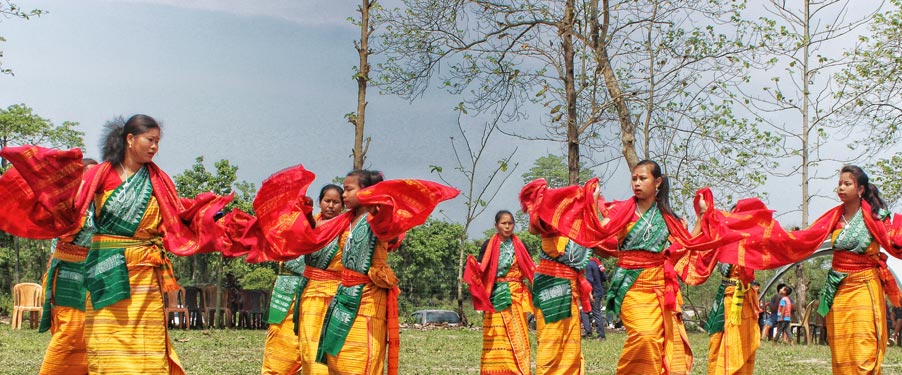 Bodo Tribe:
The Bodo tribe is one of the largest indigenous communities and the oldest inhabitants of Assam. They have a rich cultural heritage, with traditional dances, music, and crafts that are an integral part of their identity. The Bodo people have their own language and are known for their vibrant festivals, such as Bwisagu (Bodo New Year) and Domashi (Harvest Festival). They are known to be the largest ethno linguistic tribal community of Assam. They are the predominant tribes residing in the premises of Manas National Park. Their primary occupation is agriculture and the Bodo women are skilled weavers. The Bodo Tribe is believed to have migrated from Tibet to Assam through Tibetan passes.
Other significant tribal communities of Assam are -
1. Rabha Tribe: The Rabha tribe is another significant tribal community in the region. They are the part of the Indo Mongoloid group. The Rabha people are primarily agrarian and celebrate festivals like Domashi and Rongker, which are associated with agriculture and nature worship. One of the unique features of this tribe is their matriarchal society. The primary source of their income is agriculture, weaving and forest-based activities. Another characteristic feature of Rabhas is they can prepare ten varieties of beer.
2. Garo Tribe: The Garo tribe migrated from Tibet several years back and is found in the western part of Assam and in some parts of Meghalaya, Mizoram, Nagaland, Tripura and West Bengal. They have a distinguished culture, language, and traditional dress. The Garo people are known for their festivals like Wangala, which is a harvest festival celebrated with dance and music. They have a matrilineal social structure and like most of the tribal cultures, agriculture is their predominant occupation
3. Koch-Rajbongshi Tribe:The well-urbanised city of Guwahati was once known as Pragjyotishpur, which means 'Light of the East'. Guwahati is the capital city of Assam and contains a plethora of religious places as well as natural sights. One of the most famous sacred spots is Kamakhya Devi Temple. The shrine is dedicated to Devi Kamakhya and is one among the 51 Shakti Peeths, located atop the Nilachal Hills. Other attractions to visit in Guwahati are the Assam State Museum, Nameri National Park, Assam State Zoo, Umananda Temple, Pobitora Wildlife Sanctuary, Nehru Park, Guwahati Planetarium, etc.
These tribal communities often live in close proximity to Manas National Park and have a deep connection with the natural environment. Their traditional knowledge and practices play a crucial role in conserving the biodiversity of the region. Apart from their responsibilities towards ecotourism in Manas National Park, their scope of celebration lies in the festivals rejoiced by these tribal groups -
1. Bwisagu
2. Domashi
3. Rongker
4. Wangala
5. Magh Bihu
6. Durga Puja
Visitors arriving for Manas Wildlife Tour Booking can immerse themselves in the rich tribal culture by participating in local festivals, trying traditional cuisine, and interacting with the tribal communities to acknowledge their conservation efforts and their conventional lifestyle. It's important to respect their customs and traditions while visiting and engaging with these indigenous groups.