Death of Adult Rhino is the Biggest Sad News for Manas
Updated [22-Aug-23] Manas National Park is one of the most wonderful national parks situated in the state of Assam. The natural wonder was established in the year 1990. This protected area is quite huge with an area of 2837 square kilometers. This national park is home to a large population of flora and fauna. And one of the biggest reasons behind the growing tourism in this national park is the population of one-horned rhinos.
But sadly one of the adult one-horned rhinos is found dead on Saturday. The body was found at the Bhuyanpara range which is situated near Rupohi camp in Manas National Park. the official is pretty sure that the reason behind the death of the rhino is not hunting or poaching but it can be a result of the fight between two rhinos.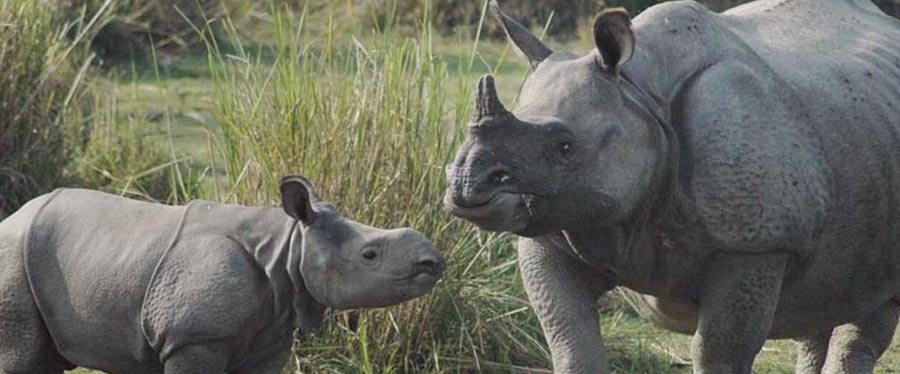 Later one of the officials named Vaibhav C Mathur confirmed that the reason behind the death of the rhino is natural. As he said that they examined the body and found out that death was caused due to natural reasons.
He later added that the age of a rhino is around 18 years and death might be caused due to infighting between the other rhino or other animal species. This is the third sad news related to the death of the rhinos of Manas. The cause of death of the first rhino was due to poaching and another was an old female rhino the reason for the death was confirmed by the official as natural the second death was caused earlier this month.
The officials said that the population of Rhinos was quite high in the years 1980s but over the two decades the population drastically reduced and the main reason behind it is hunting and poaching. But from the year the 2000s, the government of Assam took some serious actions which resulted in saving the lives of not only rhinos but other wildlife as well. The steps that are taken against poaching is that they increased security.
The case was reduced to zero from the year 2010 to 2021 as the government took some serious action against the hunter or poacher and they even arrested many people in recent times.
Conclusion
So the death of an adult rhino is the reason officials and the people of Assam are pretty upset. This huge protected area is just not about the existence of one-horned rhinos but it offers much more than that such as you can witness a diverse range of flora and fauna and you can enjoy several activities from bird watching to the Manas tiger safari tour. So if you planning a trip to this beautiful and magical national park then you are surely welcoming adventure and fun in your life. We wish you all the luck and adventure for your trip to Manas National Park.
YOU MAY READ ALSO :-