Dive into Scrumptious Delicacies in Assam
Updated [22-July-23] Visiting a different state for a tour is not only about indulging in sightseeing and roving across various destinations of the state. To imbibe the true essence of a new place try the local and traditional cuisines to add a different flavour to your taste buds. Assam is a state in the northeastern part of India, where the traditional Assamese cuisines have multiple influences from agrarian sources, fishing traditions and the neighbouring places like West Bengal and Tibet. The Assam people's primary intakes include roasted, boiled and steamed dishes, and they have a variety of rice-consuming forms like puffed rice, beaten rice, hurum, komal chaul, and so on. If you are a foodie, then paying a visit to Assam will bring you the opportunity to savour different dishes apart from momos and thukpas.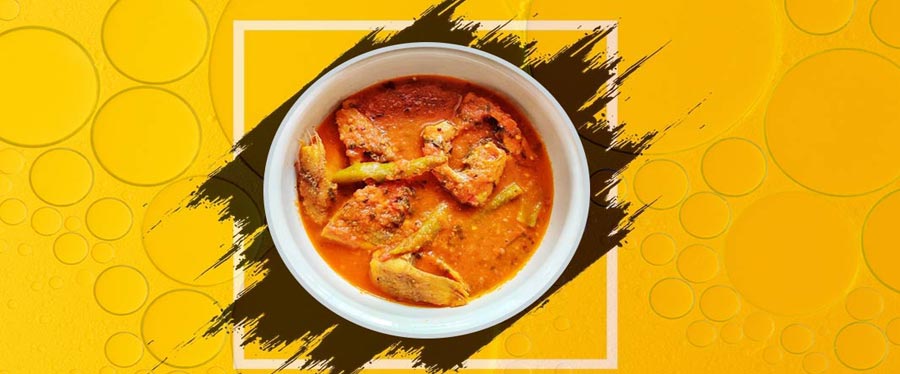 Some of the mouth-watering and must-savouring authentic dishes of Assam are mentioned below.
1. Khaar - This is both the name of the dish and the primary ingredient required to prepare the delicacy. The ingredient khaar is the filtered liquid from water and dried and charred banana peel solution. It is further mixed with raw papaya, pulses, taro and fish or meat can be also added to it.
2. Baanhgajor Lagot Kukura - This dish is made of chicken, lentils and bamboo shoots. The addition of bamboo shoots adds a distinguished flavour to the item and is accompanied by rice.
3. Masor Tenga - Tenga refers to sour in the Assamese language. The dish is a tangy fish curry, where the tanginess is extracted from the addition of tomatoes, lemon, raw mango, mangosteen and elephant apple. The tempering of the curry includes fenugreek, mustard or panch phoron (5 mixed spices).
4. Ouu Tenga - Made with jaggery and boiled and mashed elephant apple (ouu), Ouu tenga is a chutney that is accompanied by lunch or dinner meals.
5. Aloo Pitika - It is a sort of comfort food prepared with boiled and mashed potatoes, further cooked with mustard oil, salt, chilli, onion slices and garnished with coriander leaves. Pitikas are also prepared by using pumpkin, eggplant, red lentils and fish.
6. Duck Meat Curry - Duck meat is very popular in Assam and the exotic duck meat curry is a must-try in Assam. The duck meat is cooked typically with various Indian spices and ash gourd. However, lentils, pumpkin and sesame are other variations that can be applied to the curry.
7. Paro Mangxo - Paro means pigeon and its meat is consumed especially during the winter. Although banned in several parts of India, it is a traditional delicacy of Assam. Peppercorns and banana flowers are the primary ingredients to cook the Paro Mangxo.
8. Polu or Leta - It is a spicy snack and a unique preparation among Assamese cuisines. It is basically the pupa of the silkworms that are cooked after silk is taken out of the cocoon. The pupa is boiled and stir-fried to make it a crunchy snack.
9. Pani Hamuk - It is a fun-encompassing delicacy. Pani Hamuk refers to the water snails that are taken from clean-flowing rivers. The fun and challenge lies in sucking out the meat from the shells and it is cooked with potatoes and pumpkins.
10. Doi Chira - It is a common breakfast staple but is majorly consumed during the Bihu festival. It is a simple mixture of curd, flattened rice, jaggery and cream.
There's some more for you!
1. Traditional breakfast dishes - Tekeli Pitha and Lal Saah, Khulasaporir Pitha and Lal Saah
2. Traditional non-vegetarian dishes - Haah Joha Kumura (cooked duck with ash gourd), Lai Xaak Gahori (Pork cooked with Mustard Greens), Patot diya maas (Steamed Fish Wrapped in Banana Leaf), Til Diya Murgi (Chicken Cooked with Black Sesame), Baah Gaaj Bhoot Jolokia di Gahori (Pork with Bamboo Shoots and King Chilli), Koldil Murgi (Chicken cooked with Banana Flower)
3. Traditional vegetarian dishes - Dhekia Bhaji (Stir Fried Fiddlehead Ferns), Mati Dail Khar (Black Lentils with Alkaline Extract), Outenga diya dail (Lentils Cooked with Elephant Apple), Poita Bhat (Fermented Rice), Kosuthuri Kon Bilahir Logot (Tender Colocasia Leaves cooked with Cherry Tomatoes), Kothalguti Pitika ( Mashed Jackfruit seeds)
4. Traditional sweet dishes - Til Pitha, Paiyokh (kheer or rice porridge)
Coming to Assam tourism, if you are looking for a short escape to Assam, then wildlife tourism is the most appropriate option and you can browse through the Kaziranga or Manas Tour Package. There are other genres of Assam tourism such as hill station packages, family holiday packages, summer and winter holiday packages, honeymoon packages, trekking tours, adventure tours, cultural tours, heritage tours, etc.
YOU MAY READ ALSO :-