Everything You Need to Know About Safari in Manas
Updated [03-Aug-23] Manas National Park is one of the most wonderful national parks in Assam. Assam is a big spot for tourists because of so many reasons but one of the primary reasons is the views it offers to its visitors. Assam is also famous for its natural beauty and it is home to seven national parks which is 2.51% of the total area of Assam, not only national parks but also 17 wildlife sanctuaries.
The park covers an area of 950 square kilometers and this 950 square kilometer is home to over 350 wildlife species. Some of the most popular animals that you can spot in this park and which make it super unique and preferred are Bengal tigers, one-horned rhinos, elephants and leopards. Something which is going to amaze you the most when you are in this national park is safari. And yes you guessed it right that today we are going to discuss everything you need to know about the safari in Manas National Park in this blog.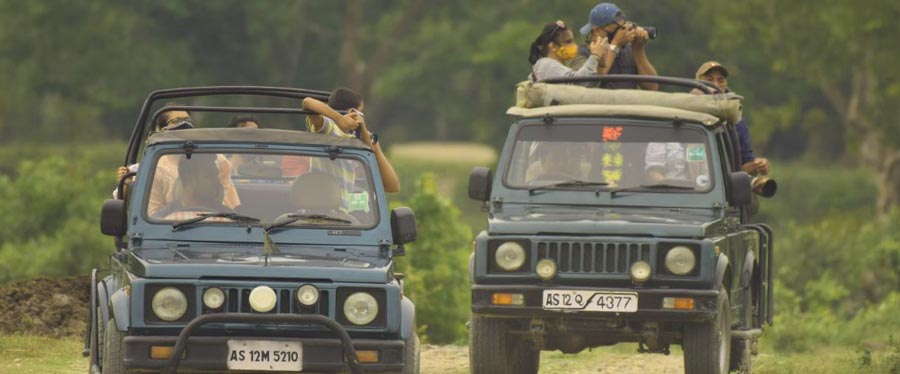 Types of Safari:
Jeep Safari: It is undoubtedly the best way to explore the national park, it takes you super close to nature and the wildlife. Jeep safari is such a therapy for your soul and mind. It is a great thing to do in the national park. What is better than exploring the unexplored exclusive wildlife and enjoying a jeep ride together? And to let you know all that it is one of the major reasons for the popularity of this national park is the Manas Jeep Safari Tour.
Elephant Safari: Elephant safari is a whole new experience and riding at the back of this giant animal in the lush green forest. This type of safari is great for the larger view and it will take you even closer to the wildlife and nature. It is a great experience for nature lovers and wildlife enthusiasts.
Some people may avoid elephant safari due to some reasons. One of the common reasons is that some people find it a little uncomfortable to sit at the back of the elephant.
Zones in Manas National Park:
Bansbari Zone: This zone is situated at the center of the national park. The zone is located near the road called Barpeta Road. this zone attracts people who crave the experience of exploring unexplored spots. It offers the best view to the people who choose this zone. This zone is situated at the entry gate of Manas National Park.
Safari Timings:
Morning: 06:30 - 9:30 and 10 AM - 1 PM
Evening: 02:00 PM - 5:00 PM
Bhuyanpara Zone: This zone is situated in the eastern part of Manas national park. The thing which you are going to enjoy there is green grassland and this grassland creates a great hiding space for tigers and this is the reason you can spot tigers here easily. This zone provides an ideal habitat for rare species such as Assam Roofed Turtle, Hispid Hare, Golden Langur, Greater one-horned rhino, Swamp deer, Bengal florican and Pygmy hog.
Safari Timings:
Morning: 06:30 - 9:30 and 10 AM - 1 PM
Evening: 02:00 PM - 5:00 PM
Panbari Zone: This zone is situated in the western part of Manas National Park which is approximately 35 kilometers away from the Barpeta Road. This zone is popular for the presence of birds. It is the perfect place for bird watchers. Some of the popular birds that you can spot in this beautiful zone are hornbills, peacocks, eagles, kingfishers, woodpeckers, barbets, bee-eaters, drongos, bulbuls, babblers, warblers, flycatchers, sunbirds and many other exclusive species as well.
Safari Timings:
Morning: 06:30 - 9:30 and 10 AM - 1 PM
Evening: 02:00 PM - 5:00 PM
YOU MAY READ ALSO :-